Sensible and Affordable dealers understand that it is important not only to provide their renters with competitive rates, but also feature rate specials and other promotional programs that give their renters the added incentive to return as well as refer friends and family.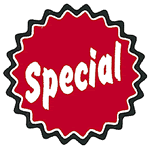 Listed below are a few rate specials you can find at selected Sensible and Affordable Car & Truck locations.
Rental Rewards: Earn valuable points towards free rental days every time you rent a car or truck. Ask your local Sensible or Affordable location how you can become a "Rental Rewards" member today.

Referral Rewards: Ask for your "Referral Coupon" and receive added discounts for future rentals for referring a friend or family member.

Weekend Specials: Many locations offer "Weekend Special" rates. This rate offers the renter a discount on a compact and mid-size car, picked up on Fridays after 3PM and returning the following Monday no later then 9AM.

Commercial Rates: Local businesses in need of great deals on a car or truck for their company or a visiting client.
Check with your local franchise location, all rate specials are based upon availability and are subject to black out dates, due to holidays and high demand.